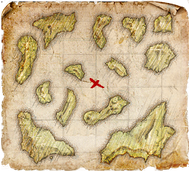 Legend tells that Spanish galleon, filled with Aztecs's stolen gold had been attacked by a pirate frigate in these waters. After a short but furious battle, the Spanish ship drowned with the entire crew.But the pirate ship received serious damage and the crew had to leave their ship and escape on boats by noting a place with their sunken ship on their map. Since then, dozens of ships tried to get the treasures, but no one was able to seize the bounty.
Now you have a chance to try your hand. You are going to fight lots of 
enemy ships on your way. Only in the battle it will become clear whose sails are filled up by the wind of luck!
Ad blocker interference detected!
Wikia is a free-to-use site that makes money from advertising. We have a modified experience for viewers using ad blockers

Wikia is not accessible if you've made further modifications. Remove the custom ad blocker rule(s) and the page will load as expected.